Gascoyne Region Projects
WA's Proterozoic Orogens are host to several large gold, copper and Nickel-Copper-Platinum Group Elements (Ni-Cu-PGE) deposits such as Tropicana, Telfer and Nebo-Babel. The Capricorn Orogen is significantly under-explored, despite similar geology and mineral potential to the Albany-Fraser and Paterson Orogens.
Miramar has two projects in this region which are highly prospective for copper-gold, REE and Ni-Cu-PGE at Whaleshark and Bangemall respectively.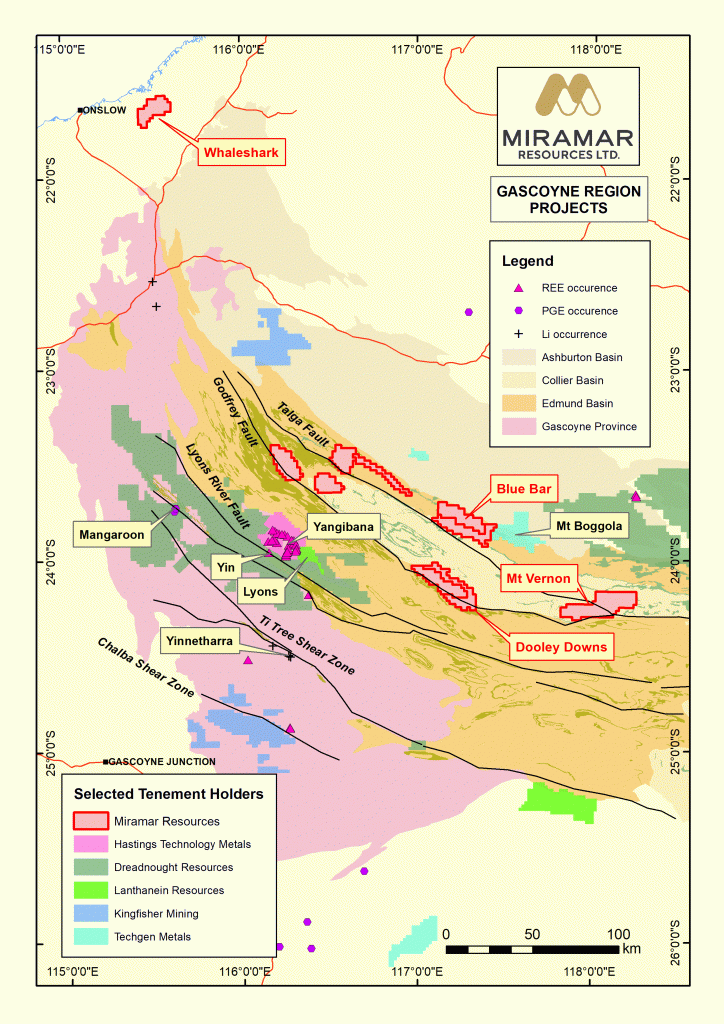 Whaleshark
The Whaleshark IOCG project is located in the Ashburton region of WA, approximately 40km east of Onslow. The Project is characterised by a large Proterozoic banded iron formation and granite intrusion beneath approximately 100m of Cretaceous sediments of the Northern Carnarvon Basin.
The Project has potential for discovery of a large shallow iron-oxide copper-gold (IOCG) deposit such as Ernest Henry, Starra, Carrapateena and Prominent Hill, but with the advantage of much shallower cover.
Since commencing exploration at Whaleshark in mid-2021, Miramar has identified strongly anomalous Cu, Co, Au, Ag and other IOCG pathfinders in shallow aircore drilling beneath surface geochemical anomalism.
Detailed gravity surveys identified a discrete gravity anomaly in the "neck" of the granite that has been crosscut by a NW-trending fault and is coincident with the surface and aircore geochemical anomalism.
The scale, magnitude and suite of elements seen at Whaleshark is very similar to the large Ernest Henry IOCG in Queensland.
In addition, comparison of results from aircore drilling at Whaleshark with published results from research carried out at the Prominent Hill IOCG deposit in South Australia also indicate the potential for the rare earth element (REE) anomalism seen at Whaleshark to be related to buried IOCG mineralisation.
Miramar has received Programme of Work Approval for diamond drilling at Whaleshark and plans to drill test the coincident gravity and geochemical anomaly as soon as heritage surveys have been completed.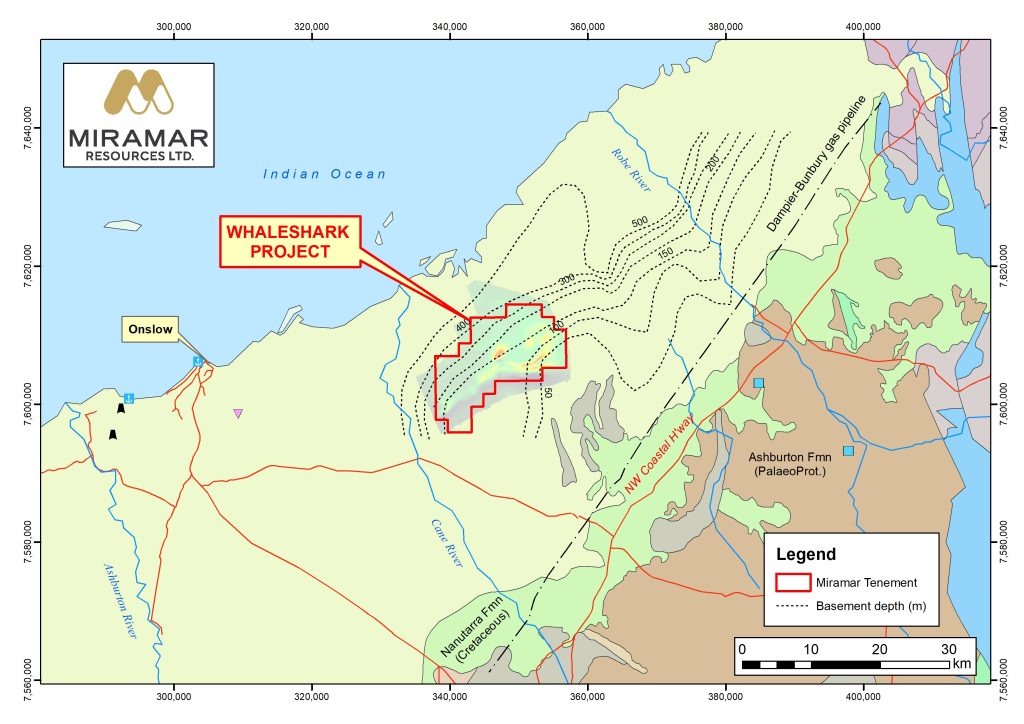 Bangemall
Miramar's 100% owned Bangemall Project includes several granted Exploration Licences and Applications covering approximately 1,970km² within the Proterozoic Capricon Orogen in the Gascoyne region of Western Australia. The region has been identified by both the Geological Survey of Western Australia and Geoscience Australia as having high prospectivity for numerous mineral deposit types, including Proterozoic craton margin-related Ni-Cu-PGE mineralisation and REE mineralisation.
Miramar has conducted:
– A review of historical data which outlined several new targets, including a diamondiferous lamproite, containing 27 microdiamonds, within the "Blue Bar" Prospect.
– A review of regional radiometric data which revealed a very large and high amplitude uranium anomaly stretching over at least 100km of strike within several of Miramar's tenement applications.
– A detailed aeromagnetic and radiometric survey over the 'Dooley Downs Project' which identified several large magnetic and/or radiometric anomalies indicating the potential for unmapped igneous intrusions, including carbonatites capable of hosting rare earth element (REE) mineralisation.
– A detailed magnetic and electromagnetic (EM) survey over the Mt Vernon Project in early 2022 which highlighted a number of late-time EM anomalies associated with one particular dolerite sill towards the northern edge of the project area. The Company is planning a reconnaissance site visit and sampling programme with the aim of identifying Ni-Cu-PGE sulphide mineralisation.
Further work will include more detailed ground geophysics and geochemical surveys with the aim of defining drill targets for testing.