Gascoyne Region Projects
WA's Proterozoic Orogens are host to several large gold, copper and Nickel-Copper-Platinum Group Elements (Ni-Cu-PGE) deposits such as Tropicana, Telfer and Nebo-Babel. The Capricorn Orogen is significantly under-explored, despite similar geology and mineral potential to the Albany-Fraser and Paterson Orogens.
Miramar has two projects in this region which are highly prospective for gold and Ni-Cu-PGE at Whaleshark and Bangemall respectively.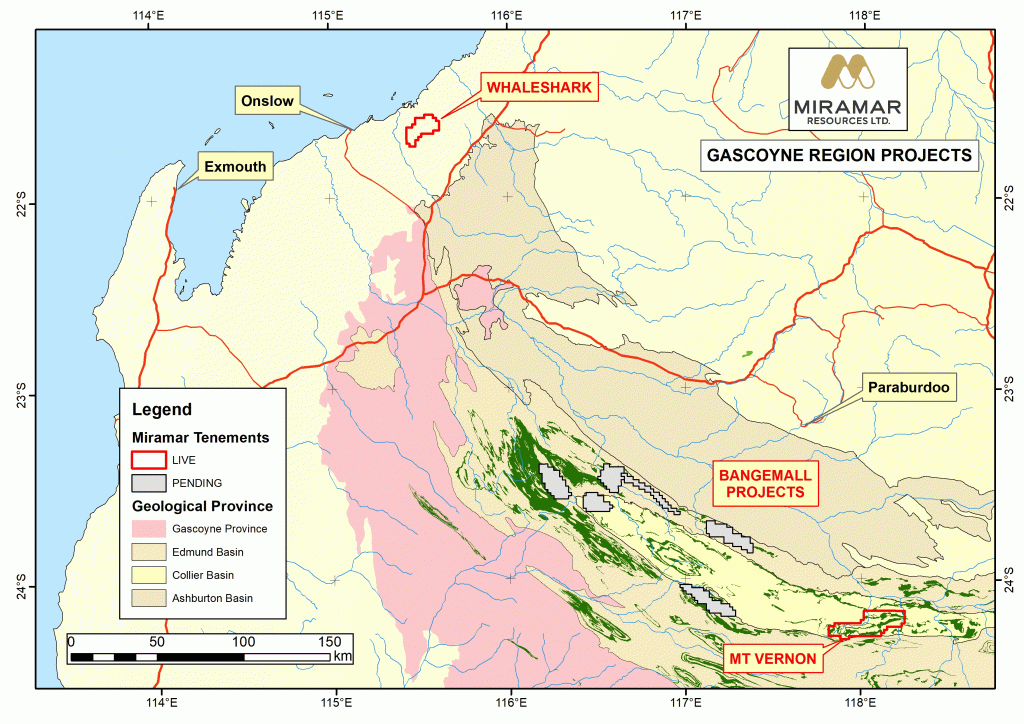 Whaleshark
The Whaleshark project is located 40km east of Onslow, WA, and is characterised by a large folded BIF complex buried under approximately 100m of Carnarvon Basin sediments. The project consists of a single Exploration Licence.
The project is located within the north western extension of the Proterozoic Capricorn Orogen and has significant unrealised potential for Proterozoic BIF-hosted Au (e.g. Homestake-style) and Iron Oxide Cu-Au (e.g. Starra, Ernest Henry-style) mineralisation.
The recent discovery of the Havieron deposit by Greatland Gold in the Paterson Orogen also highlights the potential for this style of deposit.
Previous exploration has been limited, but WMC Resources intersected gold mineralisation in sulphidised BIF with limited diamond drilling in the mid-1990s. More recently, a limited programme of EM was conducted over the main target in 2017, but no follow-up work was completed.
Miramar's analysis of soil samples by the Mobile Metal Ion (MMI) technique identified several large multi-element anomalies that may be associated with bedrock mineralisation. The multi-element soil anomalism at Whaleshark appears similar to that observed over the recently discovered Havieron Au-Cu deposit. The Company will field check the anomalies and plan infill sampling. Existing gravity data will also be re-examined and extended/infilled if deemed necessary.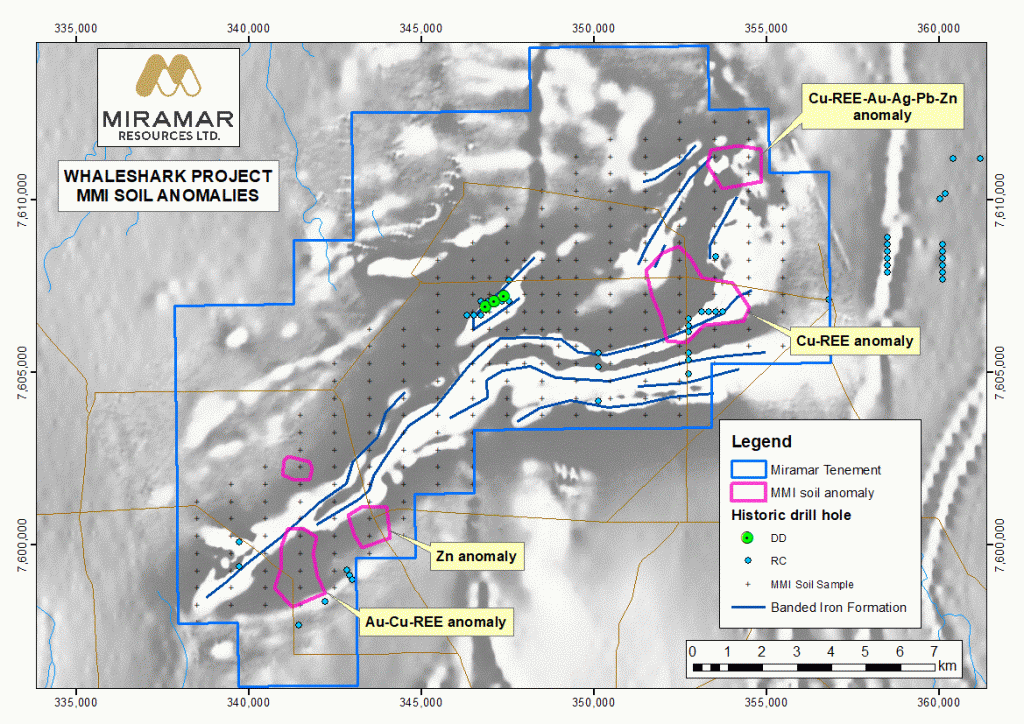 Bangemall
The Bangemall Ni-Cu-PGE project is located in the Gascoyne region of western Australia and covers a major crustal-scale structure at the contact between the Yilgarn and Pilbara cratons.
The area has been highlighted as having high prospectivity for Proterozoic craton-margin Ni-Cu-PGE mineralisation like that seen in the Albany-Fraser Province (e.g. Nova-Bollinger, Mawson) and the West Musgraves (e.g. Nebo-Babel), but has only seen exploration for Cu-Pb-Zn mineralisation
A review of historical data by Miramar identified multiple electro-magnetic (EM) conductors within the "Dooley Downs" tenement application within the Bangemall Ni-Cu-PGE Project. E09/2484 is one of seven 100%-owned granted Exploration Licences and/or Applications held by Miramar in the Bangemall region. The Company plans to model the EM data and will field-check the anomalies once the tenement is granted.