Eastern Goldfields Projects
Miramar has three underexplored gold projects near Kalgoorlie in Western Australia – Gidji JV, Glandore and Randalls. All have excellent access and are well positioned in relation to existing mining and processing operations.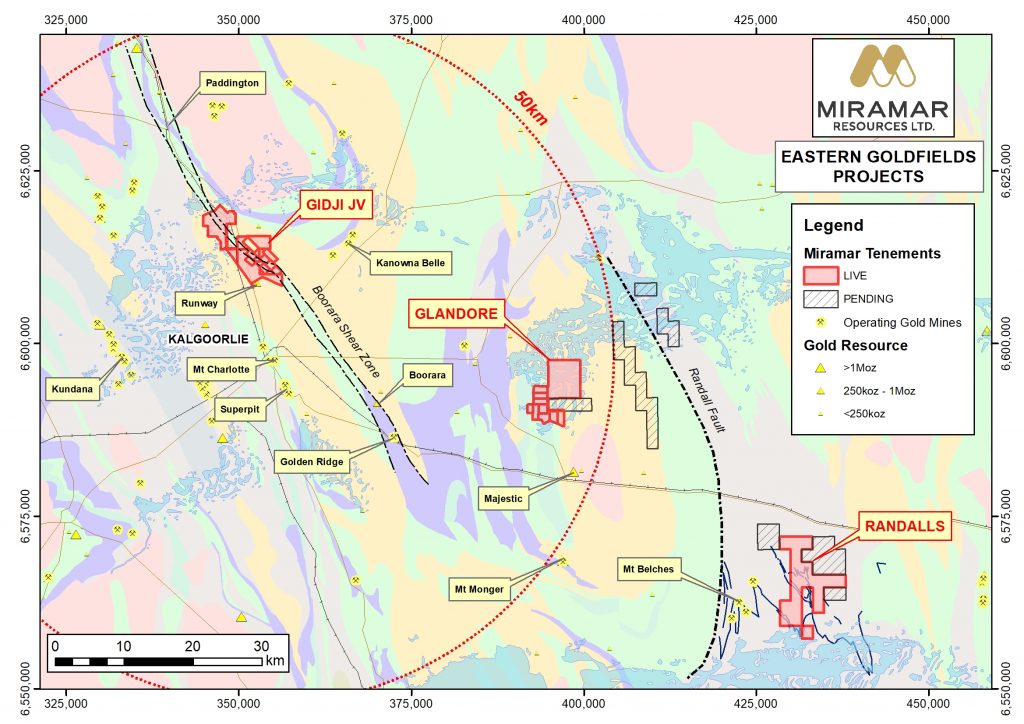 Gidji JV (80%)
The Gidji JV Project is located within the Eastern Goldfields approximately 15km north of Kalgoorlie. The Project has 15km of strike along a major structure, the Boorara Shear Zone, and is underexplored despite proximity to numerous gold operations.
Miramar has been actively exploring the Gidji Project since listing on the ASX in October 2020, resulting in the identification of several new targets and outlining large aircore gold anomalies at Marylebone, Blackfriars & Highway/Piccadilly, each of which could host a significant gold discovery. The area had limited effective historical drilling due to transported cover and paleochannel sediments.
The Marylebone target is the highest priority target as it has the same geology, structural setting and scale as the 4Moz Paddington gold deposit which is also located in the 'Boorara Shear Zone' to the north and where Miramar discovered high-grade gold in a quartz vein.
Drilling continues at Gidji and the Company has received significant gold results from 'Marylebone West' and 'Highway' targets – with 'Highway' becoming the 3rd new gold discovery at Gidji.
At the Marylebone target alone, Miramar has outlined a large shallow gold "Exploration Target" of 1.4 to 3.2Mt @ 1.2 to 1.5g/t Au.
This is encouraging as multiple other large aircore gold anomalies have been outlined at Blackfriars, Highway-Piccadilly and Railway targets.
Miramar is refining bedrock targets for further deeper drilling.
The Company has also conducted re-assay and re-analysis of selected aircore samples from the Gidji Project which returned significant platinum group element (PGE) results, indicating the potential for nickel sulphide mineralisation hosted in ultramafic rocks.
Miramar believes there is potential for Gidji to host a new gold camp with supergene and/or primary gold deposits within the Boorara Shear Zone.
Glandore
The 100% owned Glandore Project is located approximately 40km east of Kalgoorlie and covers approximately 42 square km.
The western part of the Project is underlain by a layered mafic sill intruded by a later granodiorite where previous explorers identified a large aircore gold footprint and high-grade gold mineralisation at the eastern contact of the granodiorite. Historic aircore drilling outlined gold anomalism on the eastern side of this granodiorite and limited diamond drilling in 2005 returned significant results including 4m @ 44.3g/t Au.
Miramar completed a substantial land and lake aircore drilling programme in 2021 which extended this anomalism to the west and north.
In 2022 Miramar completed a diamond drilling program at the high-grade "Glandore East' target, at the edge of the salt lake, with results returning high-grade gold mineralisation and visible gold. Multiple parallel mineralised structures have been outlined beneath a very large aircore gold footprint and bedrock gold mineralisation is present over 600m of strike and open.
A UAV magnetic survey highlighted multiple NE trending target structures and more magnetic surveys are planned to help refine the position of structures and to aid targeting further drill holes.
Miramar believes there is potential for the discovery of mineralisation hosted in multiple NE-trending structures, like the nearby Majestic and Imperial deposits (~0.5Moz Au).
Randalls
The Randalls project is located immediately east of Silver Lake Resources Limited's Maxwell's and Cockeyed Bob gold mines, approximately 70km east of Kalgoorlie.
The project covers extensions to the folded Banded Iron Formation (BIF) and sediments that host the gold mineralisation currently being mined by Silver Lake.
Soil sampling followed by aircore drilling has proven to be an effective exploration technique in this area and will be used to define further targets.